Craving savory tapas and bite-sized desserts? The Peruvian restaurants in and around Anaheim are perfect for date nights, family outings, or exploring a cuisine you don't commonly think of when you hear "Southern California." At La Pollada Peruvian Grill, located at 933 Euclid St, try the Lomo Saltado for perfectly tender meat in a cozy, laidback atmosphere. It's popular for quick stops and delicious eats.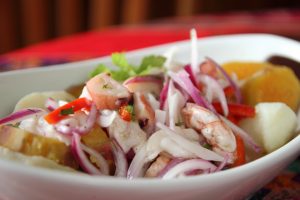 Aji Limon in nearby Buena Park can be found at 7035 Lincoln Ave. The more upscale restaurant is family owned and operated, and famous for their Pacific-fresh ceviche. Try the fried plantains on the side, and the Tallarin Saltado for Peruvian-style spaghetti with tender beef strips.
Quite the Dish
Casa Inka in Fountain Valley is located at 8610 Warner Ave. The bright atmosphere is a tribute to traditional Peruvian villages, and the authentic dishes like picante de camarones (shrimp sautéed in butter and white wine) or grilled mahi mahi on mashed yucca are irresistible. Save room for the desserts including flan, tres leches, and maple-flavored ice cream.
At Inka Cantina, also in Fountain Valley at 18279 Brookhurst St, traditional recipes include a rich seafood offering. Traditional art flanks the walls while you dig into the small plates of comfort food. Try the traditional chicken stew with yucca and garlic mashed potatoes. The alfajores, Peruvian cookies with milk caramel filling and ice cream on top, are popular with locals.