Anaheim has a full calendar in July, including the Certified Farmers Market every Saturday from 9am-2pm at the Old World Village in Huntington Beach. It's only been open since last summer and offers an expansive list of vendors, local farmers, artisans and live entertainment. This free event is family-friendly and the perfect place to taste, explore and discover some of Anaheim's best local fare.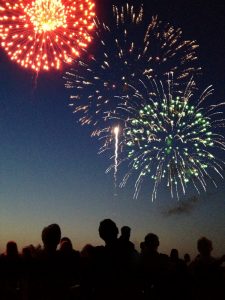 The Discover Laguna Art-A-Fair Fine Art Festival takes place June 24 through August 28 at 777 Laguna Canyon Road. Open seven days per week, as late as 10pm on weekend nights, admission is $7.50 for adults, and children under 12 are free. This festival is celebrating 50 years of the arts in Laguna, and it's where you'll find some of the most stunning artwork—or maybe pick up a piece for yourself!
Check Your Calendar
At the JoAnne Artman Gallery in Laguna Beach, "Semiotics" featuring James Verbicky is on exhibit until August 31. Free admission to this daily exhibit, from 11am-5pm, featuring Verbicky's unique style that makes you question what you see (and what you don't).
Whale watching cruises, Hollywood tours, Disneyland and other famous destinations are a must, but when you want a more authentic, local experience, Anaheim is rich with options every day in July.
---
RELATED: Fourth of July Picks